The problem of preserving the quality and appearance of the environment is very evident today. A wide array of products from our production program in which garbage cans and lawn maintenance machines help you to solve this problem to a great extent.
Our warm zinc plated containers V= 1,1m3 enable waste disposal to the most economical way. Their usage makes cheaper transportation to the landfil acording to all higienic conditions. Container of V=1,1m3 also provides great environmental protection. Their quality and economicall have larger andvantages relative to other veslles and sistems for waste disposal. We produce containes in few diferent ways:
Standard container;
Container for plastic waste;
Container for paper;
Container for glass.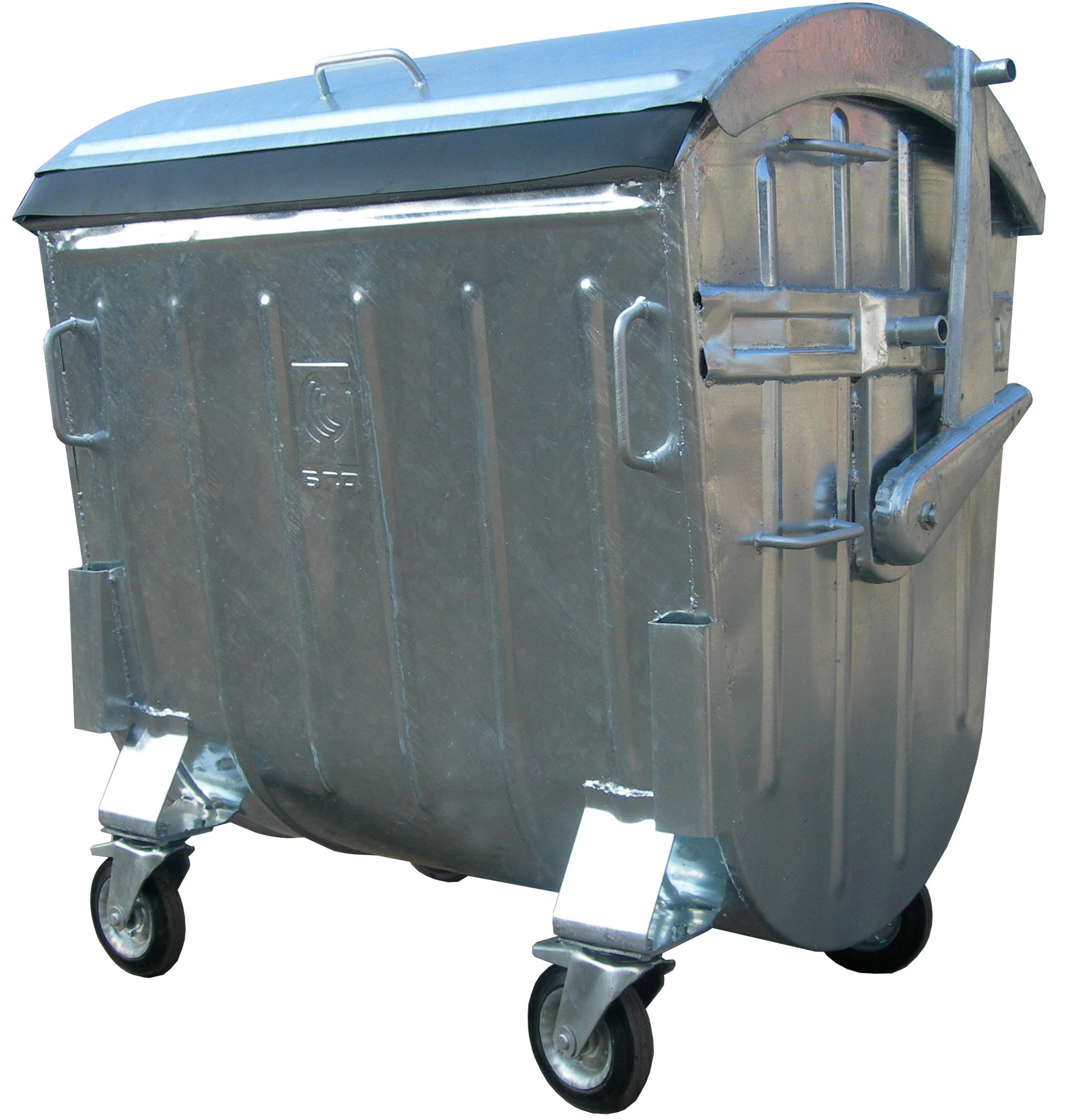 Adventages of our containers
Productivity of waste loading into tracks is four times larger in comparation to some other containers.
Large volume of our containers allows loading of large waste.
Container is very stable, and it can't be roll overed, no matters what surfase it stands on;
Gears of container have safty breaks;
Thickness of teen plates of 1.5mm provide longer lifetime of the containers in comparation to other containers;
Warm zinc plating protection from 80 to 100 microns provide resistance to corrosion, acids and chemicals.
Less number of people who work with containers,
Less stopping time of trucks for waste near containers;
Easy reconstruction of old containers, and fast deliver of all reserve parts of it.
Technical characteristics:
Metal containers are V=1,1m3 of volume, lenght 1360mm, with 1030mm, hight 1420mm and weight 135kg. They are produced of tin plates 1,5 mm thick in quality Č.0146.
Containers have inbuilt two aside clamps. They are used for lift and discharge of the containers into special trucks for waste. Containers cover is built of 1.5mm thick tin plates, shaped in form of an arc, with spring and flat rubber cover edges. It can stand in tree positions (closed, half open and open). There are four wheels on the bottom of the container. They are made with inbuilt ball bearings with load capacity of 400 kg. Every wheel have diameter of 200mm.  Movement of the weels by vertical axel is 360 degrees. Two of four wheels have inbuilt leg breaks, which can prevent uncontroled move of containers, expecially on steeply ground. Containes are warm zinc plated acording to standards EN ISO 1461, in quality of 99,99%, and they are produced according to standards DIN 30700, EN 840-3 and EN 840-6.
We can produce few diferent roll containers depening on desired volume (from 10m3 to 40m3). Purpose of roll containers is for strengling, sherd and liquid materials transport. Main usage of it is in civil engineering industry and in small warehouses as well.
One truck can serve more than ten roll containers. Therfore, their usage is very economicall. Trucks with speciall upgrade (Abroll tipper) is used for container loading on back side of truck.
They are very cheap for usage and they can last very long.
We can also produce roll containers of speciall HARDOX tin plates material according to customers desire.
Technical characteristics:
Technical characteristics depeneds of container load capacity.
Roll containers can be also priduced according to dimensions specified by customers desire.
ROLLCONTAINER - TYPE RK
Type
length L
(mm)
width B
(mm)
height H
(mm)
volume
(m3)
weight
(kg)
RK 15
6000
2410
1310
15
2300
RK 20
6000
2410
1700
20
2360
RK 30
6000
2410
2200
27
2650
RK 31
6000
2410
2400
30
2850
Containers V=5m3, V=7m3, V=10m3
We can produce opened and closed containers volume of V=5m3, V=7m3, V=10m3. They are made of steel Č.0361 (S235 JR G2).
In order to avoid bending, caused by large weight, long usage, and transport as well, this type of a containers are made of stronger material. They are made of tin plates, thicknes from 3 to 4 mm, improved with stronger cross sections.
Lifting and tipping of the container can be done by two branches on both sides of it. On the botom of the container are bearrings for locking. Loading of the container can be done through openings positioned on the bothom side of it. This type of a containers are spill resistant. Waste can't be spilled from it.
Surface of the containers can be protected by primary color according to customers desires.
Our containers are adjusted to all kinds of vehicles and truck container lifters. In order to make containers be packed one into another, we aslo can produce it in cone looking shape.
| | | | | |
| --- | --- | --- | --- | --- |
| type | length L  (mm) | width   B (mm) | height H (mm) | volume           (m3) |
|   ALB5 (V-5m3 opened) | 3490 | 1590 | 1250 | 5 |
|   ALB7 (V-7m3 opened) | 3750 | 1590 | 1500 | 7 |
|   CLB5 (V-5m3 closed) | 3040 | 1590 | 1500 | 5 |
|   CLB7 (V-7m3 closed) | 3040 | 1640 | 1660 | 7 |
Trash can V= 80 l, garbage can V= 25 l i V= 30 l
Trash can V= 80 l
The garbage bin is intended for collecting and storing garbage in home and living conditions. Design and quality of production make it an appropriate court for manipulating municipal waste disposal services where there are no conditions for the use of larger containers.
A garbage can V= 25 l i V= 30 l
The garbage bin is intended for the disposal of small garbage in parks and other urban areas. Design and quality of production make it an appropriate court for manipulating communal services for the export of garbage.