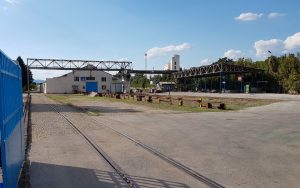 Company "Block Signal" d.o.o. Niš is located in Sarajevska 2 street, in the northwestern, industrial part of the City of Niš, on the way to the military airport and in the immediate vicinity of the railway station Crveni Krst, which  are  connected by  the industrial track.
Near our company is a bus station, which is about 500 meters away, and the public airport, "Konstantin Veliki"  is only 2.5 km away from us.
The main activity of our company "Block Signal" d.o.o. Niš is the production of railway, municipal equipment and consulting.
We are one of the most important manufacturers of municipal equipment (garbage dumps, both in housing units and in parks, machine for maintenance of green areas, ..) in the Serbian market.
Still, that's not all. We also produce fine railroad track and wheel accessories, we are working on welding rails, and in recent years we have won a number of products for the easy and safe transportation of waste and materials with the help of various types of vehicle upgrades (dumper upgrade, Abrol tipper, upgrading small trucks and automatic container lifter) and also roller-containers which are the main part of Abrol-tipper. This products makes us irreplaceable in this area.
In addition to transport systems we make also products from other categories (separators, insulation peeling machines, construction trolleys and industrial waste pallets), so our comprehensive production program makes our company  very  interesting company  on the economic map of Serbia.